Carfix Garner
Mon – Fri | 7:30am – 5:00pm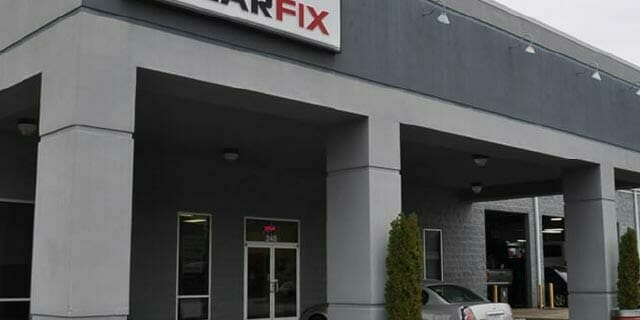 Lynn D
19:56 01 Feb 21
I love this location. They always have appointment times available that fit my schedule. They offer a shuttle which is very helpful. They don't overcharge with add-ons. Their coupon prices can't be beat. They are highly professional and always friendly. We won't go anywhere else!!
kim williams
18:20 29 Jan 21
My experience at CarFix was great. It doesn't matter who waits on you, they're all friendly and efficient. The technicians did an absolute great job on my car. I had 4 new tires put on and had an alignment done. My car was so out of alignment it was pitiful but now it drives so much better. It doesn't pull at all. I would recommend Carfix for any car issues.
Aimee Zehren
20:53 15 Jan 21
I have been going to Carfix for a number of years. I have always been pleased that they do what is necessary and do not try to over sell or over price items. Very pleased.
M G
20:30 11 Jan 21
I've been here several times now they always do good work. The staff is cool and waiting area is nice with free wifi I recommend them definitely.
Ann Curtis
20:51 31 Dec 20
I like how they gave me a heads up on other much needed repairs. They were right on. I really needed tires and didn't realize it. They really look out for your safety and good maintenance of your vehicle.
Nanshan Zhang
17:26 28 Dec 20
Appreciate the professional advices and kindness from my service advisor, Zander. Gave me assurance on my car condition as I commute a lot for everyday work.Thanks Carfix!
Mathew Ambrosino
16:15 24 Dec 20
Zander - service manager was knowledgeable and trustworthy. Today is December 24th and everyone was eager to help, professional and ethical. I certainly recommend you use their services.
Patricia Bell
21:52 15 Dec 20
I cannot say enough about Car Fix in Garner, NC. These folks are great and go above and beyond what it means to run a business!Friendly, helpful and professional are a few adjectives I might use to describe them. Xander and Jonathan are great! I will not go into great detail since I think they went far beyond what was necessary to help me.Thank you Car Fix!
Natalie Pulley
07:17 28 Nov 20
I've been using CarFix as my first stop in auto maintenance for several years now. The team is fast, friendly, reliable, and trustworthy. I never fear that I'm going to be up-charged or "sold" an unnecessary service. They are great at following up after the service to be sure you're satisfied as well as contacting me to let me know when maintenance is due on my vehicle which is something, as a single mom who doesn't pay attention to my car, sincerely appreciates. I highly recommend CarFix!
Diana Shay
19:32 12 Nov 20
I took my car in for an oil change and tire rotation, during their time with my vehicle they notice my breaks were HORRIBLE, and my tires were bald. They gave me a quote, and offered to schedule the work and let me borrow their loaner car. They understood when I told them I needed to call around and look at finances. When I did call them back a couple weeks later (no one beat their prices!), they got my car in the same day and was done with it the next. Jonathan even let us pay through a texting app so we could pick up my vehicle after hours. Very convenient. Im planning on taking my other vehicle over for work next. Deff recommend calling Jonathan and getting your car in. Very affordable, friendly, and professional!!!!
Meghan McNamee
17:38 09 Nov 20
These guys are amazing, I can not express how thankful I am for these guys. Fast and polite. Look no further for a great auto shop!
Sharon Council
17:43 26 Oct 20
I have taken my car to Carfix for several years and have always had a great experience. The staff and team are professional, provide quality work and returned my vehicle on-time. I need someone I can trust to maintain my vehicle and I wouldn't take my vehicle anywhere else.Thank you Carfix.
Matt Crownover
18:13 01 Oct 20
Great service, great team. Free loaner car if you have to leave yours. This is my go to for repairs that I can't do on my own.
Chris Parsons
20:17 03 Sep 20
Staff here is always accommodating and helpful. They do not try and sale you anything you don't need.
Nanshan Zhang
16:22 17 Aug 20
Second time came down to Carfix and had a good experience. The Vehicle Health Report is complimentary and very helpful to understand the vehicle status. The information is thorough and the recommended services are appropriate. I appreciate Jimmy and Pauls' expertise.P.S.Thanks Angel for riding me home back and forth!
Samantha Kirk
14:52 04 Aug 20
Staff is very friendly and knowledgeable. They will discuss things with you before doing any work. Good prices and discounts.
Anne de Guzman
18:53 28 Jul 20
I love all the guys at Carfix, I have used them for several years and they have always taken such good care of me. I trust them like family - I never doubt anything they say I need done on my car(s). In short, I can't imagine EVER going anywhere else!! Love you guys!!
Dana Bailey
01:22 19 Jul 20
I took my 2010 Ford Mustang to them for regular maintenance but also an issue with my car starting and a weird whining sound when I turned. They checked it over and realized that a part they replaced was malfunctioning so they replaced it (free of charge of course) and made sure it was working before they called me to pick it up. They stated the car started with no problem the whole time they had it (isn't It funny how things like that work?) well when they went to pull my car around, it wouldn't start, so instead of just jumping it like some places will do and let you drive off because they don't want to deal with it or look bad, they were determined to figure it out, it's still in the shop, but I'm happy they give free loaners, so I'm still rolling and have air conditioning. I love this place!
Olmstead Homesteads
16:50 08 Jun 20
At Carfix, you KNOW you're getting high quality and fair, trustworthy service. You pay reasonable rates, but more importantly your vehicle issue will be taken care off 100%. Also, I know first hand that they guarantee their work. I highly recommend Carfix.
David C. Miller
16:06 03 Jun 20
I can't say enough good things about CarFix. I went in for an oil, change (which is free for RN's and doctors.) pretty decent thing to do.They're always booked solid so call for a reservation or do it online.When they called me for an update ( I know, right?!) they told me my left front blinker light was out. They replaced the bulb for a nominal fee.And, oh btw, if they are slammed they will give you a loaner car for no cost. I can see why they're so busy.I asked how much a wheel alignment would be, due to the fact I took it initially to Precision Tune in Garner; they botched it TWICE.There is a nice waiting area and kids playroom if you have to wait.And kudos to Anthony and manager, Jimmy. Thanks y' all.
Frank Zhang
15:22 22 Sep 16
Guys in Carfix is very friendly and shuttle is available. Also they would loan car if needed. Better than gas station car repairs. I always go there for any services after my car factory warranty expired.
Next Reviews