3 Fall Car Care Month Tips to Keep You Safe on the Road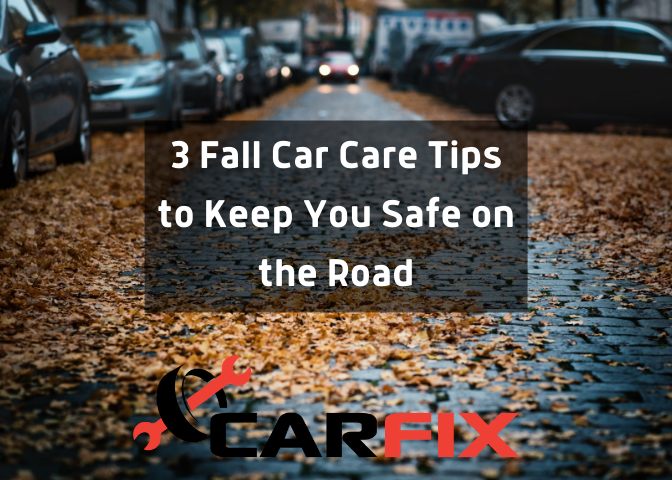 We love fall in the Garner area; how about you? All throughout Johnston County and the greater Research Triangle area you can find entertainment galore: corn mazes, festivals, and of course, trick-or-treating! But there is one other fall activity that often gets looked over, car maintenance! October is National Car Care Month, and we here at Carfix are passionate about sharing the importance of car care with our community. Curious to know more about how you can participate in National Car Care Month? Here are a few fall car care tips!
Watch Your Tire Pressure and Treads
Low tire pressure is hazardous to our cars' tires. It significantly increases the chance of a tire blowout, which could leave you stranded on the side of the road. No fun at all, right? To avoid having a tire blowout, check your tire pressure regularly as the temperature begins to fall. The air inside your tires condenses as it gets colder; consequently, you lose tire pressure!
We can't forget checking the outside of your tires too! Take a good look at the sidewall and treads. Are they beginning to crack on the sides? Are your treads extremely worn down? If they are, it's probably time to get new tires! When your tires have the proper amount of tread, they can grip the road better and keep you safe when roads are wet and slick.
Get a Feel for Your Brakes
Ideally, when you use your brakes, you shouldn't feel any rubbing or hear any squealing or grinding. If you hear any suspicious noises or if you think that you aren't coming to a smooth and easy stop, you can visit us to get them inspected. Car Care Month is the perfect time to get this done because the roads are getting wetter already!
Test Out Your Heater
Did you know that your primary defrosting system depends on your heater to work? The air that is used to defrost your windshield comes from the heater core in your vehicle's HVAC system. This air is channeled strategically through vents to hit your windshield and melt the ice. If your heater doesn't work, you won't be getting much help in the scraping department! (Plus, you'll be freezing inside your car, brr!) To prevent being left in the cold, do a quick test run of your heater. Your future self will thank you for it!
Carfix knows that sometimes it's hard to give your car the attention it needs. This month let Carfix in Garner, NC help you you with your fall car care and get your car ready for the months ahead! If you have questions or want to make an appointment.