4 Reasons Why Checking The Oil Is A Must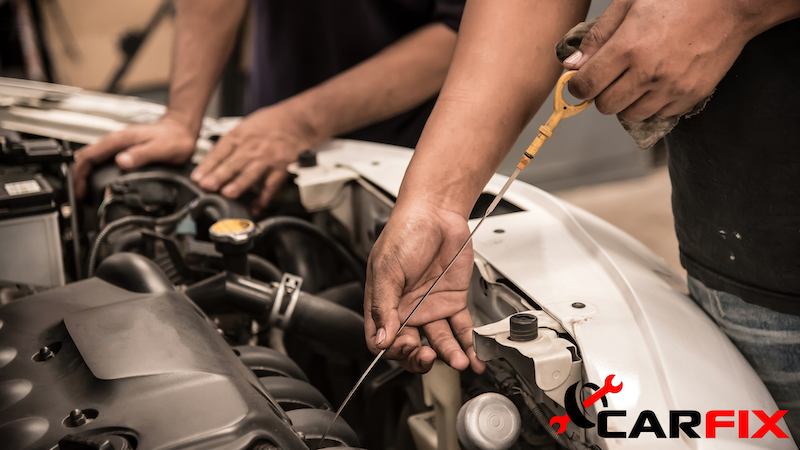 Did you know that checking the oil in your vehicle is more important than ever? That's right. It's also something that you shouldn't ignore doing. We at Carfix love our Garner and Raleigh, NC customers. And we want them to get through the summer without any kind of car trouble.
That's why we offer a complimentary oil check when you come in to do a regular inspection. If you are unsure why you need to check the oil regularly, here are a few reasons why you should take it seriously:
It will detect any mechanical problems
Here's an example: you check the oil like you usually do. You notice that the oil is a light, milky color. Guess what? There's a coolant leak that has mixed with the oil.
This may lead to further trouble down the line if you don't take care of it soon enough. Plus, putting off an oil change can lead to mechanical problems as well.
It keeps all of your parts running
Without oil, your vehicle's parts won't get the proper lubrication they need. The oil will prevent any kind of rubbing or grinding that might be caused by moving parts. If you don't want to hear any strange noises while taking the kids out for ice cream or a swim at the lake, make sure that your vehicle has a fresh change of oil so your parts keep running smoothly.
Keeps the temperature cool
One of the causes of death for vehicles everywhere is an overheated engine. If the engine is hot enough, it can render the vehicle useless. Changing the oil to ensure that it is in good condition is necessary, especially when it's the time of year when temperatures can get really sweltering.
Oil does some maintenance of its own
Believe it or not, oil has a hidden talent of its own. It can do its own kind of engine maintenance. More specifically, it can be able to remove all kinds of gunk, dirt, and debris from your engine. Your engine will function better if it has the proper amount of oil in it.
Don't delay…get your oil change in Garner and Raleigh, NC today
At Carfix, we know that summer can bring hectic times. That's why we offer same-day car inspections, complimentary oil changes, and so much more. Don't have time to pick up or drop off your vehicle? No problem. Just have us pick it up and deliver it to your home. We offer loaners for you to use for the entire day so you can continue to run errands.
All of our parts come with a 5 year/50,000-mile warranty. So if something goes wrong, we'll make it right so long as the warranty is valid. What are you waiting for? Don't wait until it's too late to get your oil changed.
Stop by our locations in Garner, NC or Raleigh, NC or call us today at 919-752-5090 to set up an appointment.